Newsletter
We purpose to bring His salvation to the ends of the earth
---
January 2000
---
Goin' Down Under to New Zealand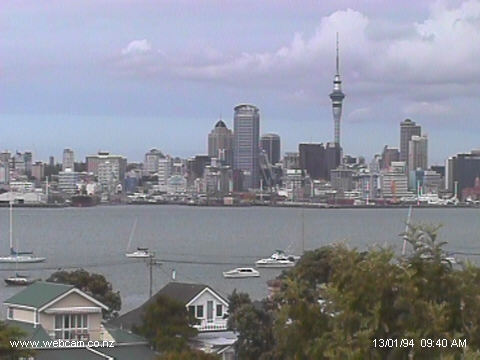 Julie will travel to New Zealand on February 6 to preach crusades in and near the city of Auckland. Pastors Jeff and Sue Murton of Riverside Elim Church invited Julie to come and preach in the hot summer of the southern hemisphere. She will be working with pastors and churches from around the city to evangelize and minister to the people there. Please pray for her safety, health, the success of the planned meetings, and most of all for people to come to know Christ.
---
Highlights of Great Britain 1999
Julie traveled and preached in many different churches, from Brighton on the south coast of England to Aberdeen in the north of Scotland during October of 1999. She was accompanied by singer Brenda Barrett, an anointed soloist who augmented the ministry. The recurring keynote of the mission there was repentance, and to the preaching of this message God granted confirmation, time and again, of people responding to His call. Many times the front of the building was flooded with those repenting, on their knees, crying and calling on the Lord.
The first meetings were in Scotland, where Julie ministered at a number of interdenominational meetings. From the beginning the power of the Lord was present. Two people came to Christ at a stirring dinner meeting in Aberdeen, and people were set free and touched by the Lord Jesus. Julie then flew into greater Manchester for a series of revival meetings with pastors Roy and Brenda Taylor at Christian Revival Church in New Mills. People there were impacted by Julie's preaching and the subsequent ministry led by the Spirit. One by one people came to accept Jesus, as others were filled with the Holy Spirit or answered the call for repentance. Many people were delivered of tormenting influences in their lives, from sinful habits to nightmares to demonic oppression, or were set free from bondage. God was very good in visiting those who came seeking.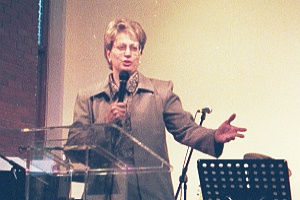 On Saturdays in October, Julie spoke at the National Meetings for the Assemblies Of God Women's Ministries. At every venue the power of God came forcefully as Julie preached. Many thronged the front for prayer and ministry. The anointing of God came intensely upon Julie as she preached and laid hands on the seekers. At each meeting the presence of God came to challenge, encourage, deliver, and heal. There were visible "shocks" of the Lord's power in people falling before the Lord, as well as trembling and agonized crying. At one meeting, as Julie preached on healing for the brokenhearted, several loud cries were heard as women came under the grace and convicting presence of the Lord. Many came forward for ministry that continued long after the meeting.
At other churches, the manifestations were also evident, and people continued to come to Christ in salvation. More healings were manifest, and many more responded to the call to repentance. In a church in Sussex, people crowded to the front, weeping, calling out for forgiveness and change. In other venues, there were too many for Julie to pray with individually, so others joined to minister.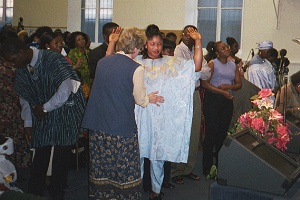 The last churches to host Julie were in and near London. Five people responded to the appeal for salvation in the morning service at Sureway International Christian Centre, and five were baptized in the Holy Spirit that evening at Bookham Baptist Church in east Surrey.
Besides all this, it would be impossible to detail the many "divine appointments" that God brought. On a packed train (literally), Julie and Brenda "preached" by singing gospel songs to the commuters. This led to a gospel presentation to a man to whom a copy of the New Testament was given. A drug addict in withdrawal was led to Christ. At a meeting in Wales, an 80 year old lady came forward for prayer, tears streaming down her face, and God healed the brokenness that had been in her life and memory for over 70 years!!! How great is our God! Nothing is impossible for Him to heal, correct, strengthen, or restore!
More reports from Britain online at:
---
RealHope Radio Now to Air in Scotland

While in Scotland, Julie met with directors from two radio stations, MFJ Radio in Edinburgh and Revival radio in Glasgow. Both stations were introduced to RealHope Radio and will be broadcasting our program. We thank the Lord for these open doors. Now hundreds of thousands will hear the gospel through the shared vision of RealHope Radio and these courageous Scottish broadcasters, who are breaking new ground in their home country.
On the Internet at:
http://www.azusa.net/realhope/
---
Appearances on Radio
While in the U.K., Julie was interviewed by Anne Henderson of UCB Radio Europe. UCB is a prominent Christian broadcasting station in the U.K. and is well known in Europe. It was a great opportunity for Julie to share what God had been doing as she ministered in Great Britain. Julie was also interviewed for a program that is broadcast by medium wave across Scotland.
---
A World Full of Tonys
I met Tony last fall as I preached in Gosport, England. He was curled up on a couch, detoxing from crack cocaine. I talked with Tony about his soul, and his need for God in his life, and led him in the sinner's prayer. Afterward, his face was shining! He received the Lord Jesus and he will never be the same. Now he has a real chance to begin life again. But that's not the only thing Jesus did that night. Tony suffered from emphysema, breathing with great difficulty. As we prayed and I laid my hands on his back, I could feel heat leaving my hands, going into his back. Tony looked up at me and smiled. "The pain is gone", he said, breathing deeply. "I don't have pain anymore."
Tony is the reason why we go, why we sacrifice, why we work hard. There are millions upon millions of Tonys in this world, all needing to feel the love and touch of the Savior, Jesus. For all the Tonys we have had the privilege of bringing to Christ, we say thank you. There are many more waiting to hear. "How shall they hear without a preacher? And how shall they preach unless they are sent?" Rom. 10:14,15
---
Young Family News
As many of you know, Julie and John's daughter Kirstie was married to Justin Bowling on September 25, 1999. What you may not know are the circumstances of the accident before the wedding. On the night of the rehearsal, Julie's parents and Jessica, the Young's daughter, were in a tragic car accident. The police were called to the site as a multiple fatality. Jessica suffered various injuries including a concussion, severe bruising, and cracked ribs. Bill also received six cracked ribs. Julie's mother was less injured, but this couple is elderly, in their 70's and 80's, and it has taken a toll on both of them. It is a miracle all three survived. The car was totaled.
Jessica was so seriously injured that she was flown by helicopter, still unconscious, to the hospital. By a direct miracle of God (the doctor stated that he thought Jessica would not live) she left the hospital two days later! This indeed was a miracle! However, some serious problems have developed over time. Jessica, who has a beautiful singing voice, cannot sing due to injury from the accident. She has been told she will go completely deaf in her right ear. She has trouble sleeping at night and sometimes suffers jitters, head shaking, dizziness, and pain in her neck, shoulders and back. She is facing surgery because of a fistula in her ear, which is touching her brain.
Please join in prayer for Jessica, that God will totally heal her body and restore her to the Lord. We have seen a great miracle, but we need the Lord to touch Jessie once again, and to work through some very difficult personal circumstances. We want to see her restored to Jesus, and the devil has tried to kill her more than once. Thank you for your prayers in this regard. You don't know how much they mean to us, and your many expressions of love and concern to us during these months.
As for Kirstie and Justin, they had a beautiful wedding! Kirstie looked radiant, and despite the circumstances, all the Young family and friends were blessed by the day. It was a wonderful day for the families. One person was saved during the reception! After a honeymoon in New Orleans, the happy couple is making their home in Springboro.
Matthew in his second year at Lee University, majoring in Communications. He plays trumpet with the Lee University Wind Ensemble.
---
Prayer Alert
Please pray for the Youngs as John seeks employment. Financial needs are critical. Stand with us in prayer for the vision of YMG to be realized and for Julie and John's needs met.
Pray about recurring health issues for Julie. We are holding onto God for healing and strength.
Please continue to pray for Jessica and for her complete recovery and restoration to the Lord.
Pray for Matthew as he seeks the Lord's guidance in these formative years.
We thank God for you and your faithful prayers.
---
Accomplishments in 1999
RealHope Radio broadcast continued on the Internet 24 hours a day
RealHope Radio accepted for airing by MFJ Radio and Revival Radio in Scotland
RealHope Radio requested by FM stations in Canada and Uganda, and by short-wave station in Europe
Julie preached throughout Ohio and Indiana, in Texas in February, and in England in June; John preached in Ohio
Five weeks of ministry in the United Kingdom in October
Julie traveled to Portland, OR to attend the NGA Conference and meet with Luis Palau
Julie ordained with New Life Christian Fellowship, Sullivan, MO
Received invitation to New Zealand, 2000
Received invitation to Berlin, Germany, 2000
Received invitation to Kampala, Uganda, 2000
Received invitation to Southeast England, 2001
Julie traveled nearly 40,000 miles in ministry
Dozens of people brought to Christ, many others healed and delivered
It is because of YOU that these things have been done, to the glory of God!! Thank you for your prayers and gifts!
---
Join Us in Taking the Gospel
There are millions waiting to have a gospel presentation for the first time. We need your partnership more than ever. Your monthly support or one-time gift can make the difference in someone's life who will hear the good news and respond. Help send Julie to the nations-become a partner today. (Make your checks payable to: Young Ministry Group, P.O. Box 613, Springboro, OH 45066 USA)
Another opportunity for your involvement is a ministry to truck drivers. We have a plan to provide evangelistic and preaching tapes to drivers at truck stops. Can you help us? If you would like to be involved financially or by personal involvement, please contact us. God can use YOU to introduce people to Jesus!
Would you like to help collect Bibles to send to Uganda? Can you help raise funds to purchase a copier for a church in the capital city of Kampala? Pastor Patrick Musoke needs the copier to produce cheap gospel materials for the people of Uganda. Can you help? Email or call us at YMG. Be part of the gospel work worldwide with Young Ministry Group.
---


P.O. Box 613
Springboro, OH 45066-0613
USA

+1 (513) 748-2330 voice (ET)
+1 (513) 748-2641 fax (24 hr)
email: ymg@azusa.net
Did You Know?
New Zealand is roughly the size of the state of California ?
One in three New Zealanders reside in the city of Auckland ?
That Auckland is known as the "City of Sails"; the Americas Cup takes place there in 2000 ?
---
This page was last updated on 26 November 2009.