Mission to Congo - July 2005
Training Church Leaders
Pastors and evangelists attended YMG Training Conferences in Uvira and Bukavu. This training is essential in raising up men and women equipped to lead and to reach the nation for Christ.
Rev. Paul Jackson of Gateway Baptist Church in Burgess Hill, Sussex, UK, taught 900 national pastors; Julie and other members of the team also shared in the teaching sessions.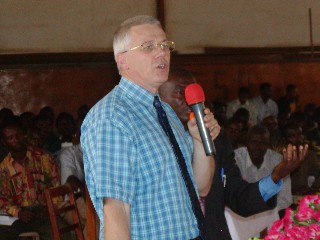 ---
This page was last updated on 26 November 2009.