Reports from Mission UK 1999
Below are some of the email received from Julie while she was ministering in the UK. She was in the UK for 5 weeks and returned home on Wednesday (3 November 1999). Julie's UK itinerary can be seen here.
Note: The auto accident that is referred to happened on September 24th after the rehearsal for our younger daughter Kirstie's wedding. In the accident, Julie's mother, and her husband, and our older daughter Jessica, were nearly killed. In fact when the paramedics arrived, they said they were sure that this was going to be a multiple fatality. Praise God, He protected them, and they are all home recovering now.
---
99/10/07

I am in Aberdeen, Scotland and the meeting is tonight. Lots of spiritual warfare, but Jesus of course is coming out on top. We have had clear but cold weather.

Mr. David Haggart who does religious programming here on the FM in Aberdeen was advertising the dinner meeting and heard about the accident (Jessica, etc.). He went to the RealHope Radio web site and listened to our September program and then taped it and played in on the radio here in Aberdeen! He wants to interview me tomorrow morning, especially concerning the accident with Jessica, Mom and Bill, because of the content of the interview on RHR with Lorie and Scott Forsythe. Also I will be interviewed for UCB Radio on the 20th. Pray that many people will hear the witness.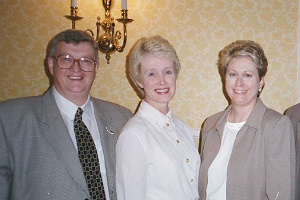 Also, the two stations in Edinburgh and Glasgow happily received the RHR series and the Glasgow one was excited to have them and will be playing them. They only have a restricted license right now on FM which means that they will only broadcast two 28 day periods in a year; however, Revival Radio broadcasts 24 hours a day on cable and satellite in the UK. Cool, huh? Praise the Lord!
You would be glad to be here and see what the Lord is doing. Tell Pastor John Swint and the church what's been happening, including Scott and Lorie.
I have to go to get ready for the meeting.
Julie
---
99/10/08

Thanks for your letter. Please tell me how Jessica is doing physically. I have been praying for her, too. In fact, a great deal of people have been affected by the story of the car wreck. I was interviewed today about it on a program that will be broadcast by medium wave in Northeast/Eastern Scotland.

Last night, two people were saved at the meeting and many touched by God, lots of repentance. I personally prayed with the two people who asked the Lord in. What a privilege! It was truly incredible. I think it will just get better from here.

I will be preaching the revival meeting at Christian Revival Church in New Mills tonight so pray for me and for great power and BREAKTHROUGH from God.

Thanks.
Gotta go,
Julie
---
99/10/11

I made the remark at the meeting Thursday night (99/10/07) that I was never more sure that God had sent me to a place than on this trip. Well the devil has been busy! Several people's cars have been vandalized outside the church during meetings, and this has never happened in the three years they've been meeting there. Tell Pastor Swint - he'll understand.

Last night (99/10/10), Pastor Roy Taylor drove me to New Life Church in Failsworth, part of greater Manchester. There were about 100 people there, and lively, too. The Lord kept telling me to "press in", so I really went for it. My message was getting clean, living holy so God can use us. When I had finished, they just sat and stared at me. So I asked a women to come out so I could pray for her, as the Lord had pointed her out to me earlier. She went down. Another man came forward, and he began to quake and fell to his knees. Then some teens, who went down very fast and hard. The power of the Lord was there! People then began to come up and notably two very large men went down like bricks falling. I also prayed for the pastor and then for Roy Taylor. I grasped Roy's hands and prayed a short prayer and he went over.

Anyway, the meeting at Failsworth went on quite a while and I was very excited to see God work. I am sure many people were blessed and set free. It was incredible. I felt such power of the Lord Jesus-- people were crumpling just as I laid my hands on them. It was truly a powerful display and God was working.

Keep praying for the demonstration of power to CHANGE the saints and that souls be saved. I especially value your prayers. I just want Jesus to have His way.

I am looking forward to this weeks meetings, and especially to the Saturday ones. Give my regards to everybody.

Julie
---
99/10/12

Thanks for your wonderful letter. I am seeking the Lord about what to do.

I'll write more later, I'm pressed for time.

I can really feel the difference in my work here because of the prayers!!

Julie
---
99/10/13

Yes, the articles were interesting, people are hungry -- we have seen that everywhere we've been.

The point is, people are hungry for revival; the question is, when will it come? We are still praying and pressing in.

At Christian Revival Church here in New Mills, I'm preaching in the building that John Wesley preached in in 1740.

By the way, I went with Pastor Roy Taylor to pray for a woman with terminal cancer yesterday, who needs a miracle. I was able to lead her daughter to the Lord, too.

Julie
---
99/10/15

We had quite a few people last night and some spectacular deliverance going on. People who are tormented, shaking, flailing, are leaving with the light of God on their countenances. Also I prayed with a man last night to receive Jesus.

Something is building, and we have to stand fast, and we can only trust that God will do what He's here to do. People are excited and are beginning to bring others. We'll see how tonight goes. I need to seek the Lord about the message. I have a really full weekend, a lot of travel and preaching.

Talk to you later.

Julie
---
99/10/19

A number of people coming to the Revival meetings here at New Mills are being delivered of horrible nightmares and tormenting spirits. One woman in particular came in literally shaking. She has been unable to take communion at the church. We prayed and took authority over the demonic forces, and after praying through she slumped over, her muscles finally relaxing. Jesus delivered her of years of battling these horrible torments! She went home looking like a new person, a smile on her face.

On Saturday (99/10/16), I preached at the National AOG Women's Conference (National Area Days) in Wellingborough (near Northampton). There was a feeling of expectancy. When I rose to go to the podium I felt the very fire of God on me. My sermon was about the cleansing of the Temple by Jesus in John Chapter two. Then a powerful move of God's Spirit that swept over the women came and we were all riveted by the word being brought forth. I gave the altar call and women streamed out to come to the front, and kneeling and weeping strongly they came to confess and cry out to the Lord. I have never seen such earnest repentance, such agony on the faces of these women.

As they prayed through their specific needs, the glory of God began to shine on their faces. It was an incredible sight! Not just a relief, but the light of Christ was radiating from their faces! At this point, the ministry team of regional and national leaders and I began to lay on hands for prayer, and God began to deal. People were receiving, some falling under God's holy power. In one instance, a woman I prayed for came and confessed a secret sin of watching pornography late at night. I laid my hands on her in prayer and she fell like bricks going down, and moaned before God.

On Sunday (99/10/17) I preached at Mid-Sussex Christian Centre in Burgess Hill, on the South Coast of England. The same strong spirit of repentance was upon the people there, and a grave seeking for God's forgiveness. The scene of the previous day was repeated, people crying out for God's mercy, on their knees, with many tears flowing. I again ministered to people for long after the service was to end.

Sunday evening, we traveled to Gosport, to Jacob's Well Pentecostal Church. Again and again Jesus directed me to preach repentance, and so I did. The response was not overwhelming here, but both the pastor and I knew that many more needed to respond. To those who did come for prayer, the demonstrations were powerful -- again, weeping, asking God for mercy, and deliverance coming to them.

One woman in particular came, in great agony of heart, saying, "I need another chance." I assured her that Jesus was indeed giving her another chance, and that that was why I was there. I asked her to raise her hands in surrender, and I raised mine. As I said, "In the Name of Jesus Christ" and went to touch her, she flew back violently, and fell to the floor. It was the power of God. I have seen a number of these strong demonstrations of God's power as He deals with people.

Some have been thrown to the floor, crying out in agony of soul, crying out at God's mercy as He delivers them.

This particular night, we also prayed for a heroin addict who was de-toxing at the church. He had been there three days, and I asked him first about his relationship with Jesus. He had made a commitment as a child, but we bowed and prayed the sinner's prayer together. We then prayed for his lungs, because he was badly afflicted with emphysema. I laid my hand full on his back where his lungs are, and we all prayed. At the finish, he declared that the chest pains he had been having were gone. It was a joy to see his face and eyes actually shining.

We have seen people get free from past hurts and current sins. We have prayed with many to get their lives on track with God. After I preach repentance at these meetings, people come to me and tell me what they have just given over to God-- bondage to pornography, addiction to the Internet, smoking, alcohol, relationship addictions, and more. We are truly seeing a move of God at this time.

Also, someone is getting saved at almost every meeting, for which we praise the Lord.

Just yesterday (99/10/18) when Brenda Barrett and I were returning by train to New Mills, we witnessed to a man named Chris on the train. We were all packed in like sardines and I began to sing about Jesus the Redeemer, Brenda joining in. Then we witnessed to Chris. He was astounded when Brenda offered him a New Testament and wanted to pay her for it. This man had been disappointed in the church after both his parents died when he was young. He never darkened a church door after. Here was a divine appointment, and we wanted Chris to know this Jesus, who would never disappoint him.

There are many like Chris who have cast away religion because it is meaningless to them; those like Tony, in bondage and suffering, who need to meet their Savior.

We begin meetings for Revival again this Wednesday in New Mills and covet your prayers. Last week we ended with a move of the Spirit upon the people as we sang and worshipped, and as prayer went out for people who came with needs.

I know my God is real and alive and that He answers prayer. We have had a few demonstrable healings, but we are looking for more. I feel that we are at the prow of an ice breaking ship and that we must move forward in the power of the risen Jesus.

Please pray that Jesus will continue to use us as we minister here. Just seeing this gracious move of repentance, with God breaking yokes, is remarkable, and I am humbled before my God. Yet my work is before me. More, More, Lord, send more, move more, change more! This is our fervent cry.

Please continue to pray for the upcoming two weeks, Revival at New Mills, National Meetings, and the other church services. I am sensing a divine call on these particular meetings in October. Thank you for your prayers.

Julie
---
99/10/21

Last night at New Mills, we had a very strange but powerful meeting. As the worship began, I felt a heaviness --and felt grieved in my spirit. I was trying to hear what the Lord was saying but couldn't figure it out. The heaviness increased and then I began to hear the words of the Holy Spirit: "I am NOT pleased with your worship... You have brought me a blemished sacrifice and trampled my courts..." It was a strong message of repentance and a call against the stubborn hearted. I was shaking and trembling. The Lord said He was grieving over His people but their sins had made a wall and a separation between them.

It stopped the meeting cold. I stood shaking, hardly able to stand upright. A great spirit of intercession fell on me and I began to cry out... Then several of us were on our knees at the altar area, and the travail in prayer rose. I don't think I could have spoken a word to the people if I had tried. I was weeping and groaning before God.

Then Pastor Roy Taylor got up and spoke to his congregation and called them to come and bow and confess before God. They came.

We spent some time before God. Several repented out loud of unbelief and other hindrances. The place was absolutely stopped before God.

The pastor said, "I have been telling you that God wants a holy house but you have not listened to me. Now God Himself is speaking to you and when the Lord chastises it is always more severe. You need to listen to what The Lord is saying."

After an interval, I then spoke to the people and shared the story of a man I knew personally who hardened his neck after much reproof and was suddenly broken (Prov. 29:1). Then we sang to the Lord our desire to repent and seek His face. The meeting ended with prayer-- God wanted to touch those who had come with needs in His mercies. The people were moved on by the Spirit of God in wonderful effusion of His love and care. God was still drawing, still showing His great love.

It was a strong word but God meant it. There were individuals there that God was giving a last chance, but some refused. Others didn't seem to understand but made themselves humble before God. Oh, what a work the Lord is doing!! I don't know what will happen next but we will be there again tonight to meet with our Lord Jesus. I expect He will come to meet those who have bowed their lives before Him.

Julie
---
99/10/22
John,

Last night in New Mills, we had a good meeting, and the sweet presence of the Lord was there. We had several interruptions: Two men opened the door of the church while I was preaching and started shouting something and then ran off. Then a young woman started twitching and having a fit during the sermon as I preached about the devil holding people back with lies, and that Jesus sets people free. She had to be taken downstairs where she was prayed for. What obvious distractions from the devil.

One good thing about last night: Many people came forward and said they wanted to be a fisher of men. (Last night's sermon: "Goin' Fishing".)

Julie
---
99/10/25
John,

We have had really good meetings- another great service in Gloucester, people coming for prayer. From what was said, the leaders were delighted.

I'm emailing you now from Birmingham.

I didn't know if I would be preaching on Sunday but I ended up preaching twice. The Lord moved in the morning service and told me to minister on healing the brokenhearted. God touched people mightily and confirmed His Word. The word of knowledge and wisdom were evidenced and many told me that Jesus had touched them powerfully. I thank the Lord for all that HE has done.

Gotta go, later.

Julie
---
99/10/26
John,

Many people have been getting free, receiving blessing, filled with the Holy Spirit, and salvation, but some still stand in the shadows and then blame God or someone else for their problems. Others have blatantly scoffed at what the Lord is doing and saying. I fear for the ones who do so. The anointing has been very heavy at times.

In East Birmingham, at Sheldon Christian Fellowship: The Lord moved upon the morning service (99/10/24). Up to 30 people came forward for prayer on Sunday morning, needing healing for their souls. As I prayed for each one, God granted me boldness and specific words to them to begin a healing in Jesus. It was an incredible time of healing as God honored His word to "heal the brokenhearted".

Here is an excerpt of an email from Britain to YMG:
"Thank you so much for "loaning" Julie to the UK; especially to Christian Revival Church in Derbyshire. Her ministry has had in will continue to effect the people of our church to bring about God's will for a true rebirth and revival. We will be very sad to see Julie and Brenda leave, and so can imagine how pleased you will be to have them back safe.
I have talked to Julie about keeping in touch to lend prayer support for YMG and it's program.
You are lucky indeed to have such a faithful friend of Jesus to minister with you [in the U.S.A.]. Look after her." Paul Jenkins
Julie
---
99/11/01
John,

The last two meetings of the revival in New Mills were very good ones; three people got saved Friday evening, and one filled with the Spirit. During the week, we had several others led to Christ and several filled with the Holy Spirit.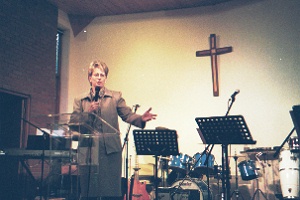 On Saturday (99/10/30), we met for the third national meeting for the Assemblies of God Women in Newtown, Wales. Each and every meeting had tremendous praise and worship groups leading, which really brought us all into God's presence. I preached on healing for the brokenhearted and did God ever move!! My preaching was punctuated by loud exclamatory crying, as the pain in hearts surfaced. The national team of Joy Gascoigne, Mary Buckley, Brenda Taylor, and Carol Burstow and I ministered and heaven's healing waters were flowing. Many came forward for prayer, and again, women were falling under God's power and finding release.
The first person I saw was a dignified little old lady who must have been 75 to 80 years old. I wrapped my arms around her and as I prayed for the things from the past to be healed under Jesus' blood, the tears began to stream down her cheeks.
The mercies of God were certainly poured out on the people this day.
Brenda Barrett and I went on to London. I received a healing for sharp pain in my neck and shoulders as Carol Burstow and Brenda prayed for me as we made a stop along the M25.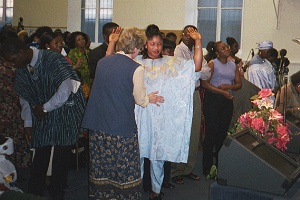 Sunday morning (99/10/31) found us at Sureway International Christian Church in London. This is a church comprised of 27 nations, predominantly Afro-Carribean in makeup. Brenda Barrett sang under a great anointing and prepared the way for the preaching of the Word. My text was Luke 18:35-43, the blind man who cried out to Jesus. I felt such an anointing upon me and I knew God was with me.
When I gave the appeal, so many people came forward they had to come in shifts. I looked around and new faces would fill the spaces in the line at the front. Five people were saved that morning. Again, there was a grip of repentance on the people. One woman came and confessed sexual sins, asking for mercy. Friends, God is beginning a move and we must flow with it. If there is any Christian reading these pages and your life is not right with Jesus Christ, repent! Turn away from what is trapping you from the mercies and power of God.
Bookham Baptist Church near London hosted us on Sunday night (99/10/31). Again the Lord moved and worked, with five people receiving the Baptism in the Holy Spirit.
I give glory to the Lord for all He has done in saving people, delivering, filling, and in the result of changed lives. To all of you who have fasted, prayed, and given: you have our thanks, and you receive a share in the work that God has done here in the United Kingdom.
Brenda Barrett has been wonderfully used in anointed singing and in intercession during this trip, and has had many requests for a CD of her singing.
Another excerpt from an email we received:
'Thank you for all you taught me and showed me in God's Word. And just how much He really does love and care about me as I am no matter what I've done or been in the past. I'm still eating my spinach !!! [a reference to Julie's sermon]... I will continue to pray for you always.' C.E., Glossop, England.
Julie
---
This page was last updated on 26 November 2009.