YMG Missions
Jesus said, "Go into all the world and preach the Gospel" Matt. 28:19. Julie and Young Ministry Group teams have been taking the Gospel into many countries since 1987.
The YMG Mission Archive contains reports from a number of YMG Missions.
South Africa and Lesotho (Coming Soon) March 2014
---
Discovering Destiny in Grahamstown - South Africa 2006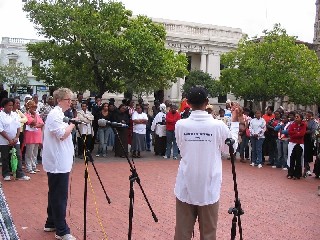 Another 1,200 commitments to the Lord Jesus were garnered in the Festival City of the Eastern Cape. Julie trained people from 18 local churches and ministries, participating in the "Discover Your Destiny" Campaign. Singers, dancers, tribal performers, storytellers and committed Christians took to the streets of the city and outlying townships to share their faith. Julie preached daily. Read the extraordinary things God worked through ordinary people, and how unity brings the blessing of God... Click here for the report.

---
A Tale of Two Cities - Congo 2005
Nearly 1,200 adults (and hundreds of children) made commitments to Christ as the YMG Team shared the Gospel in 2 cities in the heart of Africa during the YMG campaign in Democratic Republic of Congo.
---
Romanian Music Festival
A YMG Team composed of three nationalities swept into Southeast Romania for a National Youth Music Festival in July 2004. Go! here to read this report on the power of God to heal and the people who gave their lives to Christ.
The local newspaper, 'Calarasi Observer', took notice - go here to view article. (The article details the work of the orange-shirted teams on the street and specifically mentions the "gospel".)
---
This page was last updated on 29 May 2014.