Mission New Zealand 2000 Reports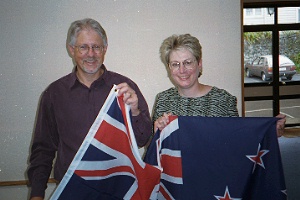 We receive regular reports from the countries in which Julie is ministering. Julie has now returned home after 4 weeks in New Zealand. Julie's New Zealand itinerary can be seen here.
---
From: Jeff & Sue Murton
Sent: Monday, 07 February 2000 6:08 AM
To: John Young
Subject: Julie is here

Hi John,

We have just arrived home, and Julie is heading for the bed.
Long flight, but she is good, and will contact you later.

God Bless,
Jeff & Sue Murton
---
2000/02/08

Julie was a guest on Radio Rhema, Auckland, which covers all of New Zealand. She appeared on the talk portion of

Stephen Tetley-Jones morning program, Straight Talk New Zealand, at 10:00 a.m. on Tuesday, February 8th. The subjects discussed live on the air were women in ministry, the role of an evangelist, and the importance of evangelism and discipleship in the church. The RealHope Radio program was also introduced. Call-ins to the program began during the airtime and Julie's upcoming meetings in Auckland were announced.
---
Week 1 - Hastings, New Zealand
---
Week 2 - Auckland, New Zealand
---
Week 3 - Tauranga, New Zealand
---
Week 4 - Auckland & Environs, New Zealand
---
This page was last updated on 26 November 2009.