Grahamstown, South Africa - February 2006
Pages From the Team Journal in Grahamstown
Day Five - Prayer Walk and Strategic Spiritual Prayer
Prayer Walk.
We joined together, pastors, people, and YMG Team, to walk the central streets, declaring the kingdom of God over the city. There was no preaching, just prayer and declaration. It was very intense as we lifted the banners and claimed the people of the city for the Lord Jesus. What I noticed most was the passion of the pastors, and the discipline of the people. It was a privilege to walk beside these men and women of God, calling out to Jesus to save their city.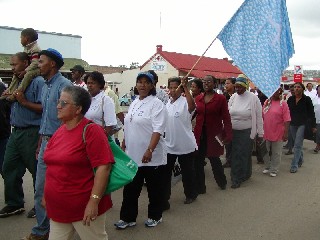 Pastor Nomana told me, "After the prayer walk I was shaking with the power of God. I got in my car to drive to work and the anointing of God was so strong; God began to speak powerfully to me about things I needed to know about my ministry here in Grahamstown."
A woman among the believers shared with her pastor that her husband is an abusive and cruel man, who curses her at home. She said she was so surprised at the change in him when she returned home from the prayer walk. He was loving and caring. Her testimony was that God had made a great change in her husband.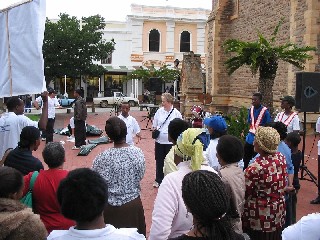 If anyone wants to know if God can change a man, a ministry, a city, the answer is a resounding "yes." Just ask the people of Grahamstown.
---
This page was last updated on 26 November 2009.