South Pacific 2002
The Solomon Islands - The Islands Hear of Him
November 2002
Ps. 97:1 "The Lord reigns, let the earth rejoice; let the many islands be glad."
Two weeks of ministry to the nation and its people. Julie and a team of eight saw salvation, healing, and freedom come to the people in the capital city of Honiara. The scene of bloody WWII battles, the island of Guadalcanal had undergone several years on ethnic fighting and turmoil. The spiritual battle that was raging was no less significant as hundreds were saved in the Lawson Tama Soccer Stadium each night of the five night "Winds of Change" Campaign, and throughout the weeks of activity which included conferences for leaders, women, meeting with government officials, and sharing in the everyday lives of the people.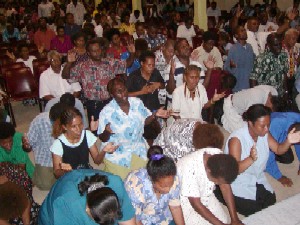 Each evening meeting in the stadium was broadcast by short wave to the entire nation and beyond. In addition, Julie shared in four other evangelistic broadcasts as part of "Living the Kingdom Way" a radio program aired on the Solomon Island Broadcasting Corporation (SIBC), hosted by Ellison Barko.
Young Ministry Group is thankful to have partnered with the Solomon Islands Full Gospel Association (SIFGA), its member pastors, churches, and organizations in outreach to the entire nation.

See these reports
---
This page was last updated on 26 November 2009.